Become a Sharpen Your Financial Focus Graduate. This program is FREE to current and former military members and their families.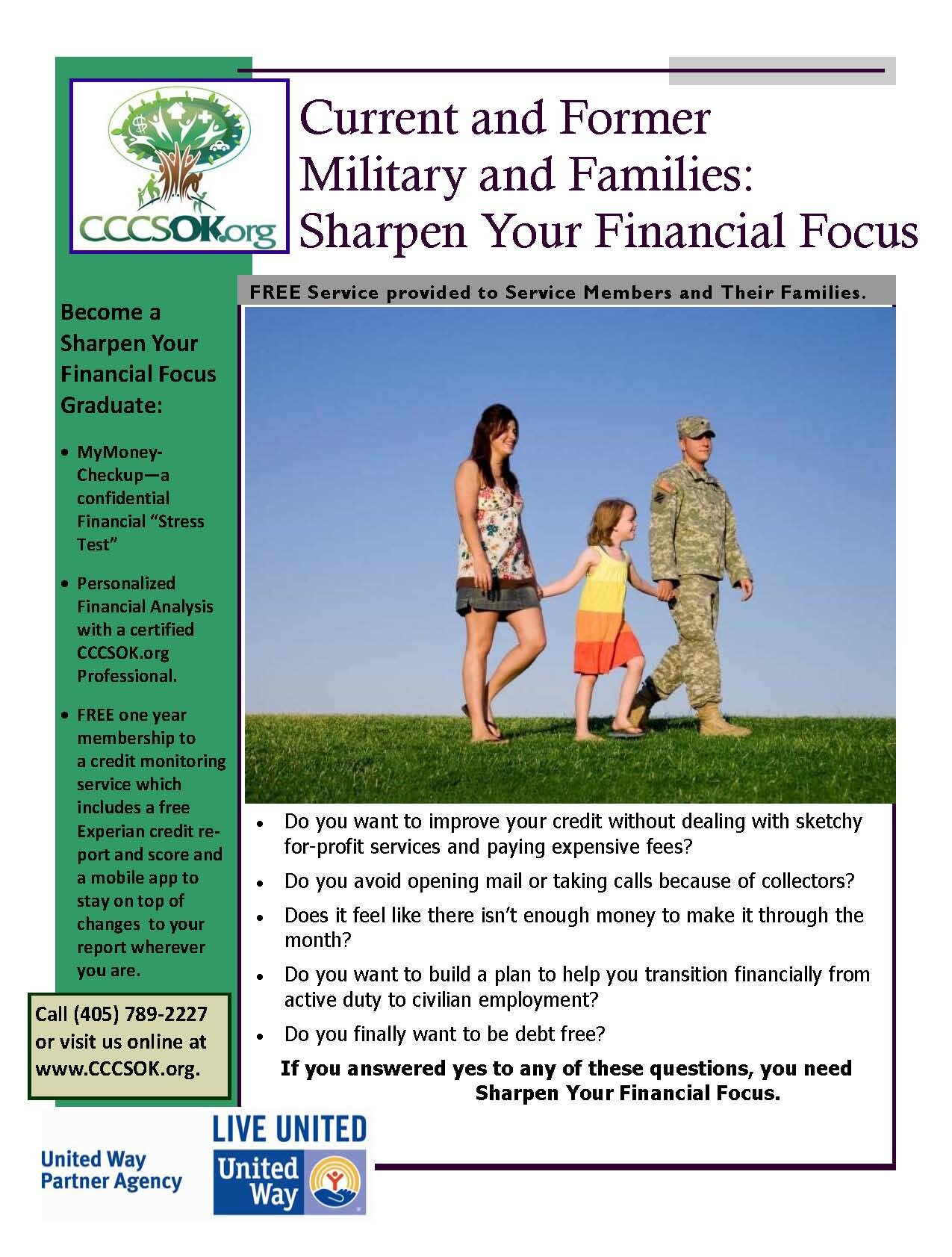 As a Graduate of Sharpen Your Financial Focus at CCCSOK.org, you will:
Improve your credit score without dealing with sketchy for-profit services and paying expensive fees.

Improve your community by becoming financially strong and providing leadership to others.
Use a master budget and weekly monitoring plan to reduce stress and help you plan where your money is going.
Connect with a Money Mentor to answer questions you have along the way.
Free access to your credit report and score.
Free one-year membership in credit monitoring system to reduce risk for fraud and identity theft.
Protect your security clearance and resolve existing problems.
Sharpen Your Financial Focus is totally confidential with no risk to your privacy.
Find us at Comrades and Coffee from 8:00 am to 11:00 am at 1311 N. Lottie in Oklahoma City on the 2nd and 4th Fridays of each month.
Download our Flyer Here to Share or to Find Out More: CCCSOKorg Military SYFF Project
See our slide from the Speed Sharing Military Event on September 25th, 2014 at the Crossings Community Center in Oklahoma City: CCCSOKorg PPT Template
View our brochure to check out other services CCCSOK.org has to offer to help you make changes in your finances.
Additional Resources and Learning Modules: Hands On Banking
Join CCCSOK.org at Forever.For Real. Love & Honor for Free Relationship Training.
Register at Forever.ForReal.com
Special points of interest:
Sometimes homesickness causes overspending when soldiers are deployed overseas
Be sure to set bills on automatic pay when preparing to deploy. Leave login and account information with a trusted family member
Special Pay and FAMSEP Pay are temporary. Treat them as windfalls, not permanent increases in income.
The LES should be reviewed every time. If a mistake is made in a soldier's favor the money will be taken out on a future check.
When a partner is left home during a deployment it can be difficult to stay on a spending plan. Anticipate more meals out at a minimum.
Some banks and credit unions are set up to serve the unique financial needs of the military. Try banks like USAA or military credit unions for solutions.
Check with the finance office on base to take advantage of a special deployment savings program for up to $10,000 earning great interest rates.
Military personnel are targeted by high interest loan companies, car dealerships and other lenders for their steady income. Caution before a loan.
Special Privacy Notice for those who choose to use Military OneSource through CCCSOK.org