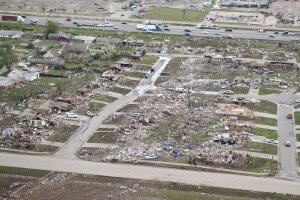 Oklahomans have seen more than their share of tornadoes.  Most tornadoes, however, affect far fewer people than the May 2013 twisters, and cause much less damage.  The May 20th twister destroyed 1,200 homes and damaged more than 12,000 homes and buildings.  Damage estimates are topping $2 Billion dollars.  Insurance companies are covering much of those financial losses.  Homeowners are already receiving claim checks; checks (in many cases) that run into the hundreds of thousands of dollars.  One thing some Oklahomans learned during the May 3rd, 1999 tornado is this:  Insurance money is needed to replace everything; the house and all of its contents.  Unfortunately, following the May 3rd, 1999 tornado, many people unfamiliar with handling large sums of money found they spent all their insurance money on a few nice things, only to realize they were left without enough money to buy the ordinary, day-to-day necessities.
Enroll now for FREE Fiscally Fit Bootcamp – Resilience in the Heartland. Courses being taught throughout 2014 in counties impacted by the disaster. 
If you or someone you know is trying to rebuild and recover, remind them they need to plan to spend that insurance money to replace everything that was lost.  Here's a case in point:  Following the May 3rd, 1999 tornado, CCCS of Central Oklahoma met a young dad who received enough money to replace his house, (he bought an existing home, rather than rebuilding), and was left with $30,000 to replace the contents of the home.
Without considering all of the forgettable items he had lost, he went to Mathis Brothers Furniture to buy a dream sofa and two bedroom suites for his family's bedrooms including new entertainment center furniture.  It was beautiful furniture, costing close to $30,000.  They got the furniture home and loved it!  Except he quickly realized he didn't leave enough money for pots and pans, bathroom supplies, a lawn mower and other yard equipment, nice clothes, rugs and wall art, lamps, light bulbs, hair brushes and much more!
Click here to download the Family Financial Toolkit with valuable tips on recovering financially after a disaster. 
He had an empty house with a few pieces of very nice furniture.  Mathis Brothers Furniture was kind, understanding and helpful when he contacted them with his plight. They picked up the furniture for free and refunded all of the man's insurance money.  Then he came to CCCS of Central Oklahoma.  We were able to help him develop a realistic budget for the insurance money he had received.  After we helped him build a solid plan he was able to go back to Mathis Brothers and find more affordable furniture (that the family loves), plus all the other stuff you need to make a house livable. His ordeal worked out for his family in the end, but he helped us all to have a learning opportunity. He had increased stress levels for himself and family in an already stressful situation; by jumping too quickly and buying expensive stuff that he wanted, rather than making a list with cost estimates of realistic items he needed.
Here are 5 steps to making a plan to get the most out of your insurance payment:
Make a thorough list of all the items you need to replace. It may help you to make categories by room thinking of each item you will need in those rooms. An organized detail-oriented friend could provide great assistance in this exercise! Most insurance companies will have great lists to go from.
Determine where you can obtain each of the items. Should they be new? Can you find used online or ask family and friends to search thrift stores and garage sales for you?
Estimate a cost for each item. Beside each item and your note as to where you can purchase it, list out the price or price range you can expect to spend.
Organize your information in a spreadsheet or very organized hand-written page. Your columns should be: Room, Item, New or Used, Where to Buy, Estimated Cost
Balance the costs against the money you were paid by the insurance company. At the top of your "Estimated Cost" column, place your total amount awarded. In this example after her new home was purchased he had $30,000 left over. Add up all the estimated costs for each item and enter a grand total at the bottom of the list. If you have enough money to cover all the items, look over the list and see if there is anything you forgot! If you need to reduce the cost spent on certain items go back through and think priorities – also about whether you can get a replacement item for less or if a pre-owned item will serve your needs.
CCCS of Central Oklahoma is a non-profit, United Way member agency that has been providing free budget counseling since 1967.  Whether you were directly affected by the tornadoes, or you just need general budget help, we are here to help you with free budget counseling.
Reach us online through this website, CCCSOK.org or call to speak with one of our trained, nationally certified credit counselors.  We can provide telephone counseling or you can schedule an appointment to come into our offices for a face-to-face meeting if you prefer.
Reach us at 405-789-2227.  We are located at the corner of NW 32nd and Rockwell Avenue in Bethany, Oklahoma.