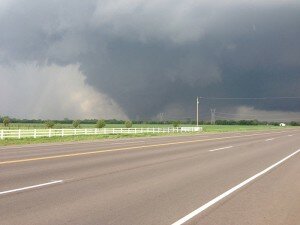 Special thanks to the Oklahoma Insurance Department for providing this information. Visit the Oklahoma Insurance Consumer Assistance Department online or by calling 800-522-0071.
Tornado season in Oklahoma is just around the corner. We hope your family won't be affected but just in case, here are a few helpful tips provided by the Oklahoma Insurance Department to help you work through the process.
Step 1- Assess the damage and contact your insurance company
Take a look around your property for damage and take pictures. Be aware of potential hazards such as power lines, ruptured gas lines, and broken glass. Unless it's unsafe to stay, don't leave your property unattended. As soon as you're able, contact your insurer or agent to get the claims process started; this is when your company will assign a claims adjuster to work with you.
If you don't have an inventory of the items in your home, prepare one so your insurer will know what needs to be replaced. Go room by room and create a list of furniture, accessories, housewares, clothing, jewelry, electronics, linens and toiletries. Download the free Home Inventory App from the Oklahoma Insurance Department to help you quickly capture images, descriptions, and serial numbers of your possessions and then organize the information by room or category.
Step 2- Is Your Home a Total or Partial Loss?
If your home is a total loss this means that it is has suffered damage to the point where repair is not possible. You will usually receive the maximum settlement possible under the terms of your insurance policy.
If your home is a partial loss, contact your insurer immediately and make temporary repairs to prevent further damage. Be sure to keep all receipts for reimbursement. Don't throw away any damaged furniture or items unless your insurer or public authority directs you to do so. Document the damage by using video or photos. Include a home inventory along with any receipts or bills to ease the claims process.
Debris removal is automatically provided for in a standard homeowner's insurance policy. If costs happen to exceed policy limits, some policies may increase the amount given for removal. If debris removal is done by volunteers, a charitable organization, or the local government, you will not be compensated for removal.
Step 3- Working With Your Claims Adjuster
Your insurance company will assign an adjuster to work with you on your claim. Be sure to check the adjuster's identification and maintain communication so that your claim can be processed as smoothly as possible. Remember, the adjusters are paid by the insurance company and they should not ask you for any payment.
Public adjusters are individuals who work independently of your insurance company and often solicit business after a disaster. If you choose to go with a public adjuster, make sure the adjuster is licensed and provides a written contract. Review this contract carefully before signing.
Step 4- Scope of Work
The detailed building plan that is used to reconstruct your home based on your previous floorplan and interior is called a Scope of Work. If your homeowner's policy includes replacement it will cover the cost of rebuilding your home with materials of like kind and quality within the limits of your policy.
Step 5- Insurance Payments and Types of Coverage
You will probably receive different checks for different parts of your loss. The most common coverages are:
Additional living expenses (ALE) – Covers temporary living expenses of a separate residence while you rebuild and may also provide for clothing, toiletries, and food. Be sure to keep all receipts. All of your living expenses may not be reimbursed.
Coverage A – Covers the cost of rebuilding your home.
Coverage B – This covers detached buildings and is usually a percentage of Coverage A
Coverage C – This covers the contents of your home and your personal items and is generally a percentage of the Coverage A limit.
There is another type of coverage called a "floater". This is insurance for specific items of high value such as jewelry, computers, or firearms.
Keep in mind that if your damages exceed the amount of your coverage, federal agencies may be able to provide grants or low interest loans to help. Contact FEMA (1-800-621-FEMA) for more information.
Step 6 – Damage and Your Mortgage Holder
As the homeowner, you should continue to pay your mortgage and property taxes. Contact your mortgage servicer to let them know what happened since they have a financial interest in the home being rebuilt. Some mortgage servicers may require insurance payments to be placed into an escrow account. In addition, the mortgage servicer may issue payments to contractors in stages to ensure the home is repaired and insurance payments are not being used in a fraudulent manner.
Step 7 – Hiring a Contractor
Before hiring a contractor, be sure to check licenses and references. Unfortunately, fraudsters often take advantage of vulnerable people following a disaster. Also keep in mind that the Federal Emergency Management Agency (FEMA) does not endorse individual contractors or loan companies.
Insist on a written estimate before repairs begin and get several estimates to compare. Make sure the written contract is detailed and clearly states what the contractor will do, including prices for labor and materials, clean up, and estimated start and finish dates. Never sign a contract with blank spaces that can be altered after you sign.
Do not pay a contractor up front or sign over you insurance settlement payment. Pay by check or credit card so that you have a record of your payments to the contractor. Pay in installments beginning with the contract being signed then as the work is completed and the final payment when the work is completed to your satisfaction.
Before a disaster affects your family, protect yourself with some form of homeowner's insurance. Review your insurance coverage annually to ensure it adequately covers your home and belongings. In addition, have a plan of action that includes where you can take shelter, a list of important telephone numbers, and an emergency supply kit.
Some of the essential items for an emergency supply kit include bottled water, a flashlight, a portable radio, extra batteries, a fire extinguisher, medication, first aid items, blankets, canned foods and a non- electric can opener.
Don't be afraid to ask questions. You can contact the Oklahoma Insurance Department at:
facebook.com/oid411
Twitter: oid411
Oklahoma City
3625 NW 56th, Suite 100
Oklahoma City, OK 73112
Local: 405-521-2828
In state toll free: 800-522-0071
Fax: 405-521-6635
Tulsa
7645 E. 63rd St., Suite 102
Tulsa, OK 74133
Local: 918-295-3700
Fax: 918-994-7916